This photo taken on June 28, 2020 shows rescuers evacuating residents in a flooded area after heavy rain in China's southwestern Chongqing.
(STR/AFP via Getty Images)CHINA SOCIETY
BY EVA FU July 7, 2020 Updated: July 7, 2020 Print✉
China, still grappling with the CCP virus pandemic, has been hit with wave after wave of natural disasters across the country.
Weeks of torrential rainfall caused some of the worst floodings in decades, wreaking havoc in 26 provinces across central and southern China and disrupting the lives of more than 19 million, according to authorities.
In recent weeks, hailstorms and earthquakes also struck parts of the country. Swarming locusts and animal-borne diseases were but the latest of the country's woes.
Close to 50 million Chinese have suffered from some form of natural catastrophe in the first half of 2020, according to China's emergency management authorities. Official tallies stated that the disasters have left 271 missing or dead, and 914,000 people urgently evacuated, but the true numbers are likely far higher, given authorities' tendency to cover up information.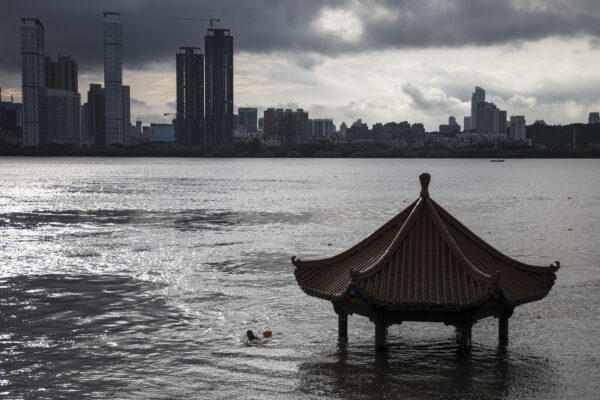 'Come to See the Ocean'
Almost daily rainfall across large swathes of China since June has caused around 300 rivers to exceed warning levels and prompted dozens of cities to send emergency alerts. Citizens have recounted houses and cars being washed away in the stormwater.
Hubei, a central Chinese province whose capital Wuhan was ground zero of the virus outbreak, was particularly hard-hit by the downpours. The unprecedented rainfall has paralyzed hundreds of roads, overwhelmed five major lakes in the region, and caused nearly 1,100 reservoirs to overflow, according to local authorities.
"Come to see the ocean in Wuhan," one local said in a video showing knee-high water on the road.
In Shanghai, a trio of rains, angry winds, and roaring thunder shook residents wide awake early on July 6. The accumulated rainwater on the rooftop of a shopping mall began to spill over, while gushing water burst out of a manhole cover, according to accounts from locals and videos shared online. In the megacity Chongqing in southwestern China, muddy water ran through the third-floor window of a residential building, forming an artificial waterfall.
If the trend continues, locals and experts worry that the Three Gorges Dam, one of the world's largest, may burst under aggravating water pressure, putting hundreds of millions who live along the Yangtze River at risk.Read MoreChina's Largest Dam Draws Scrutiny for Structural Flaws as Flooding Ravages Country
Severe flooding in a county in the eastern province of Anhui has caused the national college entrance exam—already postponed for a month due to the virus—to be further delayed, after only a quarter of the 2,000 registered students managed to show up, some of them on boats.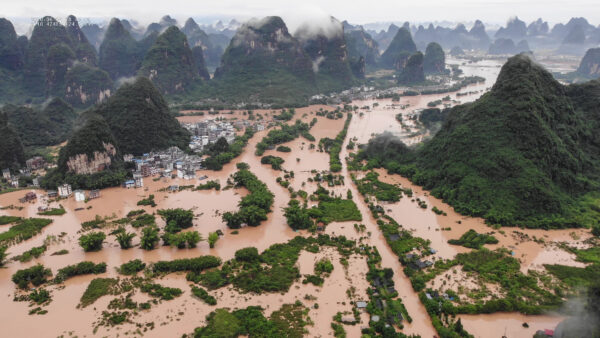 "Our home could be in danger any time," said Ms. Deng, a resident from Huangshan city, a mountainous tourist attraction in Anhui. Afraid that floodwaters could pour into her house, she has been unable to sleep at night, she told The Epoch Times. Local floodwaters caused a road to the tourist site to collapse and crushed a tunnel underneath, creating a gaping hole of more than seven meters (23 feet).
Huang said she is closely watching the drainage holes for any signs of water. "The rain is too mighty, if you lose attention for even just ten minutes, the house will be drowned," she said, noting that more rain is forecasted for the coming days.
Other Crises
Swarms of locusts have eliminated crops in multiple agricultural provinces since June—some of which were already battered by flooding.
In Quanzhou, a southern agricultural county in flood-hit city of Guilin, 10 days of locust invasions have emptied out corn and grain fields, orange trees, and willow trees planted along river banks to prevent flooding, according to villagers.
"Even the leaves were not spared," Mr. Zhao, a local farmer, told The Epoch Times. In early June, a locust invasion in Hunan Province caused residents to hide at home and shut their windows tight, as the insects swarmed their courtyards.
While China's top agricultural expert Yuan Longping has denied the possibility of a food crisis, critics and locals have raised such concerns due to the recent disasters. Officials from Chengdu city in Sichuan have issued a notice encouraging villagers to convert fruit orchards into rice paddies, suggesting a food shortage.
Meanwhile, the African swine fever, which first broke out among China's hog population in August 2018, has again emerged in nine Chinese provinces, including Hubei, Yunnan, and Jiangsu. According to a June 29 study published in the U.S.-based "Proceedings of the National Academy of Sciences" journal, Chinese researchers also identified a swine flu virus named G4, which can spread among humans. The virus evolved from the H1N1 strain, which caused a global flu pandemic in 2009, and has been detected in over 30,000 hogs in 10 provinces in recent years.
Authorities in Inner Mongolia have issued a warning after a person was hospitalized, and suspected of contracting the bubonic plague, the cause for the Black Death pandemic more than 670 years ago.
A city in southwestern Guizhou Province, which also recorded heavy rainfall, experienced two small-scale earthquakes on July 2, while northern cities including Beijing and Baoding in neighboring Hebei Province saw hailstones carpeting the ground on July 1 and 5. And in late June, a hailstorm in Beijing continued for seven hours, sending down hail the size of eggs that resembled the shape of a virus.Follow Eva on Twitter: @EvaSailEast
How is The Epoch Times different from other media?
The Epoch Times is the fastest-growing independent media in America. We are different from other media organizations because we are not influenced by any government, corporation, or political party. Our only goal is to bring our readers accurate information and to be responsible to the public. We don't follow the unhealthy trend in today's media environment of agenda-driven journalism and instead use our principles of Truth and Tradition as our guiding light.We're working day and night to cover the CCP virus outbreak for you.
Source: https://www.theepochtimes.com/disasters-rage-across-china-affecting-tens-of-millions_3415788.html